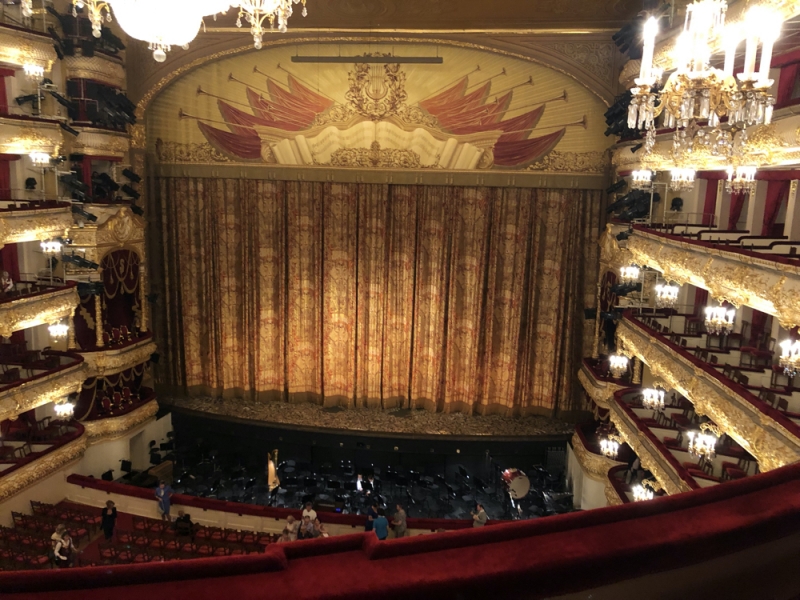 What happened before
Last May my customer's assignment brought me to Moscow. I had never seen this city before, but I had heard a lot of fascinating and interesting stories about it. Finally, I got the opportunity to discover the capital of Russia and I was full of anticipation. Luckily my planning allowed me to stay for an additional night. How wonderful! As this hardly ever happens, I was ready to enjoy and very much looking forward to my trip.
Luckily my colleague Irina who grew up in Moscow and she was eager to support me in creating a "one day bucket list" for her beloved hometown. But wait, Europe's biggest city in only a day? That sounded like a challenge. In fact: impossible. We needed a plan: What did I want to explore and what was a must? Was there some common ground? And essentially: How could I put this in my tiny time frame? The result: the Bolschoi Theatre, a guided tour at Kreml and maybe a trip to the world-famous store called GUM.
The Bolschoi Theatre. I closed my eyes and started dreaming. Rows of smooth red chairs, a huge sparkling chandelier and directly in front of the stage, enjoying the overwhelming atmosphere: myself. A few clicks later the soap bubble burst. 870 Euro per ticket. That's way too much! Even for making my dream come true.
Irina didn't share my resignation at all. She was quite motivated making the impossible possible. After several phone calls with her former fellow students and a long conversation with her mother (who lives in Moscow), Irina called me and said: "My mother has a ticket for you!" YAY! A miracle happened!
In my ideal world, the ticket would be an email instead of a piece of paper and my meeting would be in Moscow instead of a few kilometres beyond and there wouldn't be a problem at all. Like I said: in an ideal world. Unfortunately, there was no possibility to change these circumstances and we had to find another solution. I've been taught that you cannot confide such a valuable ticket to everybody, so Irina managed a logistical master piece to get it to me 😉
Finally, in Moscow
The whole day, I focused on our meeting. Later, when I arrived at the hotel and someone handed me this envelope, I was more than happy: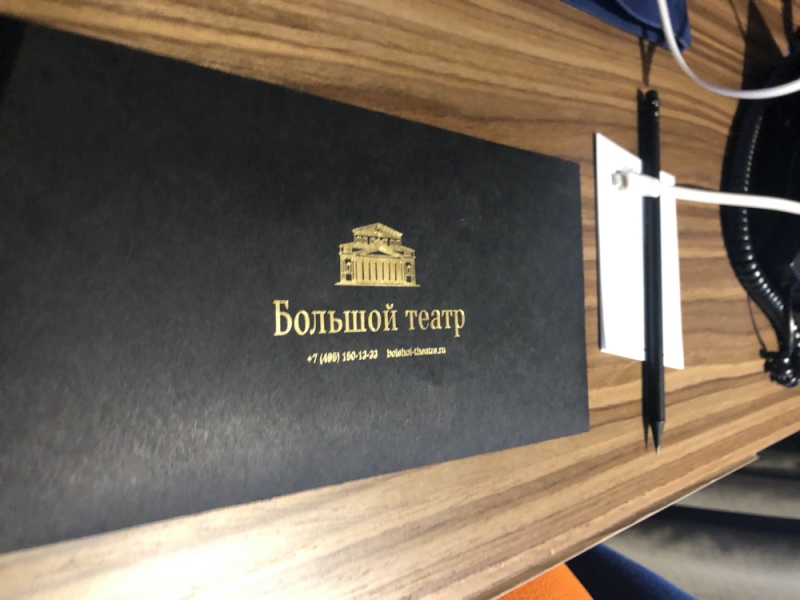 It worked! Such a relief!
The next day, when I arrived at the hotel in the afternoon and asked the receptionist to call a taxi to take me to the show later. The guy said: "If it starts at 7pm, you can leave at 6pm. You'll have enough time to arrive unhurried." That sounded good to me. I got dressed for the theatre and reached the lobby at 6pm.
6:15pm
Still no taxi. I was getting a bit nervous. The receptionist made another phone call and told me: "Apparently they have forgotten you. They'll send another taxi in a minute…" I couldn't refrain from thinking of all people who had made this happen. The least I could do was getting there in time.
6:30pm
Finally, a taxi came around the corner. At the same time, a well-dressed lady got out of the hotel and hopped in the car. I couldn't shake off the feeling that she had entered my taxi and again, I asked the guy at the reception. There were only 30 minutes left.
"Oh", he said after another phone call, "this was indeed yours. I am afraid, there currently are no taxis available."
He (let's call him Sergej) felt sorry for me though, so he ran in front of the hotel, jumped on the street and stopped every car that passed by. I could only guess what he was saying, but one thing was pretty clear: He took care of it.
6:30pm
Someone stopped and the rush-hour traffic stood still for a moment. Unbelievable. Sergej gave me a sign which meant something like: "Hurry up! Get in the car!", so I took my heels and ran. "Ah", I thought, "this is how taxis in Moscow look like."
"Thank you for taking me to the show", I said. "How much is it to the Bolschoi-Theatre? Could you turn the taximeter on, please?" The driver grinned broadly and said: "Me no taxi."
He thought it was funny, but I wasn't sure: a foreign country, a stranger, and no one really knew where I was. A quick glance in the driver's eyes through the rear-view mirror made me calm down. He looked so frank and nice that I forgot about my initial thoughts immediately. Unfortunately, he didn't speak English a lot and my Russian is restricted to only a few words. Therefore, we both kept silent for the rest of the ride.
6:52pm
I got off the car and pulled out my purse. He declined the money and said: "No, you in my country. Have good time!"
Simply wonderful
With their understanding of service and hospitality, two people highly delighted me. A huge thank you to Sergej, who did a lot more than I would have expected and to Khachatur, who gave me the great feeling of being welcome.
You are my Service-Heroes!